A
dwarf
is a nickname or term generally used for describing small, short, wayside signals or trackside signals used for signalling sidings, spurs, branchlines, turn-outs, diamonds, interlockers, and other transition-type tracks or rail lines.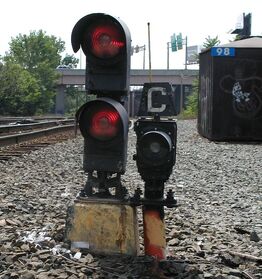 They are typically used for signalling limited clearances, reduced speeds, or as an alternative for standard high signals to reduce costs and maintenance.
Dwarfs are commonly arranged in a similar fashion akin to standard high signals and come in all shapes and sizes. Most railroads have their own variations of dwarfs, while many have since adopted or inherited their own designs from preceding companies or from manufacturers. Companies like the Pennsylvania Railroad (PRR) developed their own unique dwarf signals reminiscent of their earlier 3-way position light signals, which the designs were then inherited or adopted by successor railroads like Conrail (CR) and Norfolk Southern (NS) prior to the recent replacements by various modern Safetran 3-way traffic signal-style signals. Manufacturers like Safetran have developed many different signal models built to meet FRA requirements and railroad specifications, for each railroad has their own unique style or method of placing an aspect arrangement. Although most are assembled in a generic fashion, some are assembled in a unique
Other countries such as Great Britain and Germany, have also inherited or adopted numerous designs from American dwarf signals for use on busy electrified rail junctions.
Ad blocker interference detected!
Wikia is a free-to-use site that makes money from advertising. We have a modified experience for viewers using ad blockers

Wikia is not accessible if you've made further modifications. Remove the custom ad blocker rule(s) and the page will load as expected.