Bio/History
Edit
The EMD G12 was a class of locomotive built by GM-EMD, and its Canadian affiliate General Motors Diesel. In addition, Australian licensee Clyde Engineering built ten locomotives for New Zealand in 1957, five for Hong Kong, 23 for Queensland,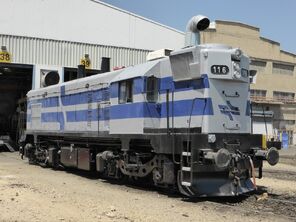 14 for Western Australia and seven for BHP. Australian licensee Commonwealth Engineering also built 42 for Queensland Rail in 1964–66. Many examples were built in the 1950-1960s for railroads all over the world.
Specifications
Edit
They are powered by EMD 12-567C prime movers rated at 1,250 hp (930 kW). Some have been rebuilt with EMD 645 engines, however.
Ad blocker interference detected!
Wikia is a free-to-use site that makes money from advertising. We have a modified experience for viewers using ad blockers

Wikia is not accessible if you've made further modifications. Remove the custom ad blocker rule(s) and the page will load as expected.