This article or page is currently unfinished.
The GM10B was a solitary test-bed electric locomotive for freight duties built by General Motors' Electro-Motive Division of the United States in collaboration with ASEA of Sweden. It was built at EMD's La Grange, Illinois plant entering service in August 1976.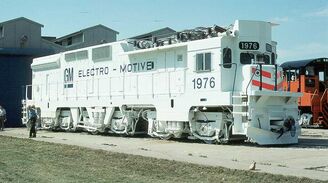 Equipped with B-B-B trucks and a high proportion of Swedish ASEA INC design and technology, the locomotive was designed for high-speed freight service, and spent the entirety its short-lived career in the Northeast Corridor.