The
GE (General Electric)
C40-8
(Dash 8-40C, C40-8C, or simply Dash 8)
is a type of six-axle, 4,000hp diesel locomotive built from 1987 to 1992 (and subsequently from 1989 to 1994; referring to the C40-8W) with 585 built; including over 800 or so C40-8W units, having over 1,600 total.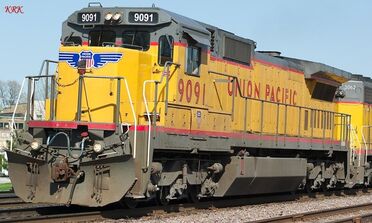 It is the predecessor to the B40-8; its four-axle counter-part, as well as being the first official member of GE's Dash 8 Series or locomotive line to not be an experimental pre-production testbed like the C39-8 or the C32-8.
Union Pacific (UP), the Chicago And Northwestern (CNW), Norfolk Southern (NS), CSX, Conrail (CR), and the ATSF (Santa Fe) were among the original customers to purchase units, while later customers such as BC Rail and Canadian National (CN) were among others.
Many are still in service on various US and other North American Class 1 railroads, though some currently have portions of their rostered C40-8 units in storage; most notably BNSF and Union Pacific, to be used as spare units. Though, other units from both respective railroads have also been in the process of being retired or withdrawn from service for auction to leasing companies or for use on the second-hand locomotive market with companies like CN.
As of late-2016, CSX has since retired all of their standard-cab C40-8 (and subsequent four-axle B40-8 and "B20-8") units from their roster, and currently possess their remaining C40-8W wide-cab units. 
During the early 1980's, GE experimented with (what was considered to be at the time) innovative electronic microprocessor computer technology to implement on their increasingly successful Dash 7 diesel-electric locomotive line, but also opted to improve on features that preceding models (such as the C30-7) originally didn't offer, apart from keeping up with the competition . Hence, beginning in 1984 with the C32-8, C36-8, and C39-8 (all originally dubbed "Super 7" models at the time of their development and early debut), GE proved their new and successful technology by demonstrating said testbeds on various host railroads. Though, it wasn't until the full production of the C39-8; prior to the success of the C40-8, that railroads became interested in owning such a powerful, high-tech, and revolutionary model which offered a doppler-controlled wheelslip system (similar to what was offered with rival EMD's SD60), better tractive effort, more even weight distribution, updated engine specs, and updated traction motors, which furthermore resulted in a much smoother ride and better performance than with preceding models (apart from having improved aesthetics). Furthermore, the Dash 8 line didn't garner much attention amongst railroads until GE boosted the horsepower output of the existing C39-8 to 4,000hp. Though, an "enhanced" variant was offered, the model didn't sell well, and only generated a small order with Norfolk Southern.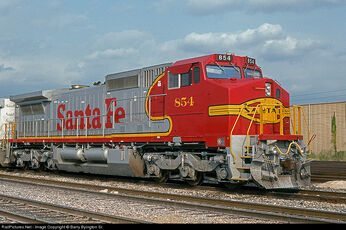 The model itself revolutionized today's modern motive power not only with its electronics, but by having a high-horsepower rating at 4,000hp; something that was previously never achieved  for the domestic locomotive market, and the development of the "American Safety Cab" or "wide-cab" variant: the C40-8W, thus setting the new standard for average diesel locomotives as opposed to having a lower horsepower rating and a common, conventional "standard" (spartan) cab like with most, or 75% of other models of domestic American diesel locomotives built from 1963 to 1987 (excluding Canadian-built models having a wide-cab or with cowl cabs/cowl bodies in relation to American models like the F40PH , FP45, F45, and U30CG; but not including models like the DDA40X due to it being a specialty model).
The C40-8 was proven to be able to replace 5 SD40-2 units on an average mainline freight train with only needing 3 or 4 units (and 2 in some cases) as opposed to 5. GE demonstrated such capabilities to the Burlington Northern (long before the 1995-1996 BNSF merger), and opted to promote the C40-8W to the company to replace their aging fleets of Dash 7 and SD40-2 fleets which were deemed to be "outdated" when compared to the CNW and UP's rapid transition with diesel technology (considering that the BN once had one of the largest fleets of SD40-2's and was their main locomotive most favorable for any operation; especially with coal drags). Though BN declined the offer, and stuck with EMD's initial SD60MAC/SD70MAC bid, which helped further improve and revolutionize diesel technology on the BN's Powder River Basin coal trains. Today however, GE's Evolution Series locomotives are more capable of replacing simple DC-traction 3,000hp locomotives such as the SD40-2 in contrast to the C40-8. Hence, two ES44AC units are capable of replacing 5 SD40-2's; aside from two preceding AC4400CW units being more than capable of replacing 5 SD40-2's as well (all in terms of tractive effort versus horsepower).
Railroads such as the Chicago And Northwestern (CNW) and the company that eventually acquired the railroad; Union Pacific (UP), were the two main customers who first purchased the C40-8. UP acquired their first fleet of 75 units to be utilized on their heavy and fast-paced intermodal and autorack services, while CNW acquired theirs for use on slow coal drag or coal train services in Wyoming's Powder River Basin. Eastern-based companies such as CSX, Conrail, and Norfolk Southern placed orders for units later on, and were delivered prior to the arrival of CN's exclusive Canadian-built, cowl-bodied C40-8M in 1990. In an effort to increase safety while operating in harsh weather conditions, CN commissioned a custom-designed cowl body for their 55 C40-8M's. Built on Dofasco trucks from traded-in ALCO/MLW C630/M630 units, the Dash 8's were given a "Draper taper" design inspired by CN brainchild William L. Draper. Since the debut of the custom-designed 3,600hp Bombardier HR616's, CN units built with distinct cowl-bodies were given the notable notch to improve crew visibility without resorting to opening the cab-side windows in narrow clearances. BC and the QNSL also took delivery of C40-8M units from around 1993-1994, and were built to CN specifications. Domestic railroads also followed suit, for many wide-cab GE diesels built domestically from around 1991-onwards have a small notch on the conductor-side rear cab door; though the notch was originally intended to provide better clearance for the doorway rather than improving visibility. Such units; however, are in the process of being retired by CN, and are in the process of being replaced with second-hand C40-8 and C40-8W units from UP and BNSF, most which were originally from CNW and ATSF heritage. The QNSL units have since been retired. 
CSX purchased their first relatively-small fleet of Dash 8 units in 1989 and were painted in an exclusive variant of their "Stealth" scheme known as "Grey Ghost" (nicknamed by railfans and employees); having italicized numbering and lettering to help distinguish the once-unusual, unique, and highly uncommon (due to being completely new at the time) 4,000hp type of diesel locomotive model. Yet, CSX's Dash 8 fleet grew from having only 25 to over 70, and finally settled on dozens more standard-cab units along with a vast number of wide-cab C40-8W units (including 53 C44-8W's) increased the total before the split of Conrail from CSX and NS in 1999. Although Conrail only had 25 original C40-8 units, they had an abundant amount of "W" units; many which were also built and delivered to LMSX before the 1999 split, but were eventually acquired under Conrail's "Shared Assets" plan by CSX and NS. Several years later, ex-Conrail B40-8 units owned by NS were leased and eventually acquired from their main rival. Thus, making CSX currently the largest owner for utilizing active Dash 8 units; all which are still currently in use. Union Pacific; having a total of 256 units numbered in the 9100-9300 series, was among the largest (and first) customer to order the model, though the CNW merger of 1995 doubled the amount.
The GE C44-9W (Dash 9) was the C40-8's initial replacement, yet both models were also meant to be mechanically compatible with one another. Though, the Dash 8's initial success further led to the development of the Dash 9, as production and development was well underway towards the end of the model's run in 1992-1994. Although orders were already underway with the succeeding model, between June and November 1994, Conrail 6230-6265 and Conrail/UP-assigned lease fleet units LMS (LMSX) 700-759 closed out production of the C40-8 family, which generated a grand total of 1,569 units.
C40-8.5 Project
Edit
Beginning mid-2013, NS rebuilt a number of their original (and ex-Conrail) standard-cab C40-8 units into what are dubbed as a  "C40-8E", "C40-8.5W", or "C40-8.5" as part of a project to extend their longevity, provide better safety and comfort, as well as numerous enhancements and upgrades like with their SD40E, GP59E and SD60E rebuilds. Among these changes were with the control system, the "brains" of the locomotive, in charge of an upgraded 7FDL-16 engine. NS also installed an electronic fuel injection as well a newly designed "split-cooling" radiator system which separates the cooling system into two loops. One loop is meant for the jacket and bearing water while the other is for the intercoolers, which chills the air for combustion, coming from the turbocharger. Notable upgrades to the operating environment inside the cab include an air-brake system upgraded to New York Air Brake's CCB-26, as well as including LEADER train-management software for braking. The multi-year program was intended spawn at least 18 units per year once the program is under-way.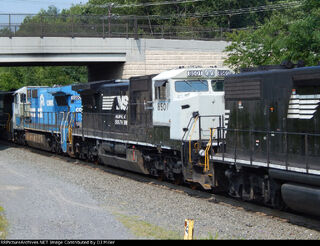 Only five units; former NS #8305, #8306, #8307, #8309, and #8311 have been rebuilt. Though, four are equipped with "Crescent Cabs", where they underwent development at the railroad's Roanoke, VA facility and were recently towed to their main locomotive facility in Altoona, PA for completion. NS #8503 on the other-hand, originally received a C40-9W cab for comparison before it was renumbered to #8505. All of the units have since been renumbered following the completion
NS #8500 (now #8503) was one of the last former Conrail-painted C40-8 units on the railroad's roster and retained its original livery; albeit with a new "face", prior to it's completion.
An obvious sign showing the proposed "C40-8.5" name is indicated with NS #8305's newer number: #8500; being the first of what's meant to be a new series of rebuilt Dash 8 units from NS.
As of 2016, the project has been cancelled in favor of the railroad acquiring newer AC-traction ET44AC units, for the rebuilds generated numerous problems with their electrical systems and were deemed "unfavorable" by locomotive mechanics and engineers. 
| Unit | Original Rebuild No. | to | Current Rebuild No. |
| --- | --- | --- | --- |
| C40-8.5 | #8500 | - | #8503 |
| C40-8.5 | #8501 | - | - |
| C40-8.5 | #8502 | - | - |
| C40-8.5 | #8503 | - | #8505 |
| C40-8.5 | #8504 | - | - |
There are also several versions/variants of the C40-8:
C40-8W - Wide-cab or "safety-cab" variant of the original model.
C40-8M - Cowl-bodied, Canadian-built.
C41-8 - Experimental, 4,135hp upgraded version; only three built and were owned by the CNW, yet eventually became a designation for units 8543-8574 for they were re-rated between 1991-1992. Though, no specific designation was given at the time.
C41-8W - Experimental upgraded, wide-cab, 4,135hp gross-hp version of the C40-8W; owned by UP and ATSF, and was also part of a slight running change involving the frame, cooling system, electronics, alternators, (and/or traction motors in some cases).
C44-8W - Specially ordered by CSX with 53 examples built; all currently downgraded or de-rated to 4,000hp and classified as "C40-9W or C44-9W" due to having Dash 9 specifications (upgraded split-cooling system, dynamic brake grid, electronics, control systems, and updated traction motors). All numbered CSX #9000-9052.
C40-8 Production Roster
Edit
| Owner | Road Number(s) | Quantity | Date Built |
| --- | --- | --- | --- |
| Chicago And North Western (CNW/C&NW) | 8501-8577* | 77 | 1989-1991 |
| Conrail (CR; Consolidated RailCorp.) | 6025-6049 | 25 | 1989 |
| CSX Transportation (CSXT/CSX) | 7500-7646 | 147 | 1989-1990 |
| Estrada de Ferro Carajás (Brazil) | 501-504 | 4 | 1989 |
| Norfolk Southern (NS) | 8689-8763 | 75 | 1990-1992 |
| Union Pacific (UP) | 9100-9355, 9185 (2nd) | 257 | 1989 |

Note*: The CNW's final three C40-8's that were delivered in Spring 1992 were experimental upgraded 4,135hp units rated at gross horsepower delivered prior to the debut of the C44-9W (Dash 9) the following year in 1993. Said units were numbered 8575-8577, and were classified as a "C41-8" (not to be confused for its wide-cab counter-part ordered by the UP), yet eventually became a designation for units 8543-8574.
C40-8W (and subsequent models) Production Roster
Edit
| Owner | Road Number(s) | Quantity | Date Built |
| --- | --- | --- | --- |
| Conrail | 6050-6265 | 216 | 1990-1994 |
| CSX | 7650-7917 | 268 | 1991-1993 |
| Locomotive Management Services (LMSX/LMS) | 700-739 | 40 | 1994 |
| LMSX (through Conrail) | 750-759 | 20 | 1994 |
| Santa Fe (ATSF) | 800-926 | 127 | 1992 |
| Union Pacific (UP) | 9356-9480 | 125 | 1989-1991 |
| Santa Fe (ATSF)* | 927-951* | 25 | 1993* |
| Union Pacific (UP)* | 9481-9559* | 79 | 1993* |
| British Columbia Railway (BCR/BCOL)* | 4601-4626* | 26 | 1990-1993* |
| Canadian National (CN)* | 2400-2454* | 55 | 1990-1992* |
| Quebec, North Shore & Labrador (QNSL/QNS&L)* | 401-403* | 3 | 1994 |

Note*: Asterisk and bold lettering/numbering denotes C40-8W's rated at 4,125hp and are classified as a "C41-8W".
Note*: Italicized lettering/numbering indicates Canadian cowl-bodied C40-8M units.
C44-8W Production Roster
Edit
| Owner | Road Number(s) | Quantity | Date Built |
| --- | --- | --- | --- |
| CSX Transportation (CSXT/CSX) | 9000-9052 | 53 | 1993-1994 |
Export Models
Edit
List of models exported and/or built in Australia and Brazil:
| Model | Power (HP) | Gauge (m) | Manufacturer | Source | Year of Manufacture | Quantity (Total) | Owner |
| --- | --- | --- | --- | --- | --- | --- | --- |
| C40-8M (Brazilian variant) | 4,000 | 1,600 | General Electric | USA | 1989 | 4 | Carajás Railway |
| BB40-8M | 4,000 | 1,000 | General Electric | Brazil | 1991 | 6 | EFVM |
| CM30-8 | 3,200 | 1,435 | UGL Rail | Australia | 1990-1991 | 14 | Australian National |
| CM39-8 | 3,950 | 1,435 | UGL Rail | Australia | 1988 | 4 | BHP Ore |
| CM40-8 | 3,950 | 1,435 | UGL Rail | Australia | 1992 | 2 | BHP Ore |
| CM40-8M | 3,950/4,000 | 1,435 | UGL Rail | Australia | - | 36 | BHP Ore |
| CM30-8 | 3,000/3,200 | 1,067 | UGL Rail | Australia | 1995-1998 | 36 | Queensland Railways |
| CM40-8 | 4,000 | 1,435 | UGL Rail | Australia | 1989-1990 | 12 | Robe River (now Pilbara Iron) |
| CM25-8 | 2,500 | 1,067 | UGL Rail | Australia | 1989-1991 | 17 | Westrail |
Specifications
Edit
| Model | C40-8 (Dash 8-40C) | C40-8M (Dash 8-40CM) | C40-8W (Dash 8-40CW) | C44-8W (Dash 8-44CW) |
| --- | --- | --- | --- | --- |
| Production Date | 1987-1992 | 1990-1994 (designed in 1989) | 1989-1994 | 1993-1994 |
| Total Built | 585 | 84 | 847 | 53 |
| Length | 70' 8" | 71' 8" | 70' 8" | 70' 8" |
| Wheel Arrangement | C-C | C-C | C-C | C-C |
| Engine (Prime-mover) | 7FDL-16 | 7FDL-16 | 7FDL-16 | 7FDL-16 |
| Horsepower Rating | 4,000 | 4,000 | 4,000/4,135 | 4,400 |
| Aspiration | Turbocharged | Turbocharged | Turbocharged | Turbocharged |
| Alternator | GMG194 | GMG194 | GMG194 | GMG197 |
| Traction Motors | 752AG/752AH | 752AH | 752AH | 752AH |
| Weight x 1,000 lbs. | 391-420 | 388-395 | 394-400 | 412 |
Trivia/Facts
Edit
Since 2010, Union Pacific has been in the process of retiring their vast fleet of C40-8's, and have since been leased or sold to Norfolk Southern, CSX, and CN, as well as various different leasing companies such as HLCX, CEFX, NREX, CREX, and LLPX having several of the latter.
Several CSX, CN, and UP C40-8 and C40-8W's have since undergone a radiator conversion to comply with the US EPA's strict "tier 2" standards (though, other emission levels or tiers have since become applicable).
From a computer technicians stand-point, the electronics and microprocessor technology implemented on the C40-8 are often rougly compared to a Commodore 64; a revolutionary, yet long obsolete personal computer system. Hence, being one of the main reasons as to why railroads are retiring most of their C40-8's for long-haul, general revenue service and are replacing them with GEVO's.
The ATSF's earlier fleets of C40-8W units (along with subsequent B40-8W units) originally had a different wheelbase diameter; measuring at 42 inches as opposed to 40 inches, and were rated at 3,800hp upon the railroad's request as opposed to what the model designation originally gave it.
Several years shy of the Conrail Split of 1999, units to LMX (or LMSX leasing) which were eventually purchased by the Illinois Central (IC) and Grand Trunk Western subsidiary of CN (GTW) shortly before the IC was purchased by the CN, as well as CSX and NS purchasing several units before the Conrail split officially occurred in 1999.
Because of how different the interior design and layout for the C40-8W's cab is, the desktop controls are placed significantly differently than other wide-cab GE models (minus most modern-day GEVO's, which have more traditional or conventional controls similar to the original C40-8).
The C41-8W originally had its own unique type of trucks (similar to export models), which were often used on several C40-8's.
Before NS began their "E" rebuilding program (sometime in 2010-2011), numerous UP C40-8 units were leased to the railroad before eventually being turned over to various leasing companies (like CREX and NREX).
Many former Conrail Dash 8's owned by CSX still retain their original marker lights.
During the economic downturn (Great Recession) of 2008, many of UP's Dash 8's were placed in storage before ultimately becoming retired and auctioned to CN and numerous leasing companies.
UP 9400 was the 1,000th Dash 8 unit built in 1993, and is currently in storage as of 2012.
UP 9405 was also dedicated to having a safety record by having a special plaque applied to the side of the cab similar to UP 9700.
CN 2122 (formally UP 9087 and originally CNW 8575) is actually one of the original three former CNW C41-8 units which survived as well as being one of the only other CNW-painted Dash 8 units left on UP's roster (the unit was also one of the only unpatched CNW Dash 8 units before eventually receiving patchwork in 2005-2006) before becoming one of the many ex-UP (nee CNW) Dash 8's purchased by CN as a result of an auction. The unit has since been converted or reconfigured since CN's purchase.
CN #2113 (ex-UP 9078, nee CNW 8566) was painted with a special banner commemorating the CN's 15th anniversary of independence from the Canadian government in 2010.
CN 2124 (ex-UP 9089, nee CNW 8577) also retains said commemorate banner, but was also originally the exclusive CNW Dash 8 unit painted with a unique "Safety" banner which unfortunately became faded not too long before the CNW merger in 1995, and tagged with graffiti prior to the unit's auction to CN.
CN 2115, 2107, and 2128 also retain said banners as well.
The C44-8W originally had a few minor differences between every other variant of the C40-8W; the most notable difference being the frame steps.
The CREX Leasing Corp. (as with NREX and numerous other leasing companies) currently owns several fleets of former UP C40-8 units; most which originate from CNW ancestry.
Conrail briefly experimented with using DPU technology on their C40-8W units around 1995-1996, yet the experiment was unsuccessful. CNW also experimented with said technology as well.
Ironically, CSX has recently replaced the majority of K5LA and K5H (including their subsequent variants) horns in favor of their early 1st generation GEVO (ES44DC) units horns (being the 1st generation K5HL). Hence, the units having their horns swapped for one another.
Most CN railfans often nickname the railroad's fleet of former Conrail-painted C40-8W units as "Blue Devils", while the ex-BNSF/ATSF C40-8W units were often nicknamed "Canadian Pumpkins" or "Falsebonnets".
Years prior to the UP's acquisition of the CNW in 1995, the railroad (CNW) experimented with DPU technology on a handful of their C40-8 units (including their three C41-8 units) shortly before the debut of the Dash 9 and AC4400CW in 1993-1994.
As of mid-2013, several C40-8 units on CSX's roster have been repainted into the company's YN3b scheme. CSX #7562 is a prime example: being a former YN2-painted unit which began life as one of the earlier Dash 8 units which originally wore the "grey ghost" Stealth scheme.
During the 1992 presidential campaign, former U.S President George H.W Bush began what was known as a "whistle-stop" campaign, which involved traveling cross-country by rail (from CSX to UP/East Coast to West Coast) to compete against candidate (and later 42nd President) Bill Clinton. To commemorate and celebrate this event, CSX specially painted C40-8W #7812 with an exclusive scheme representing the 1992 election. Ironically, the unit retained said scheme long after the campaign and election ended, and didn't receive a new coat of paint until several years later.
CR #6192 was involved in a wreck which destroyed most of the cab. However, the unit was salvaged and repaired at NS' Roanoke, VA facility and was fitted with a C40-9W's cab (having high-mounted numberboards) sometime during the mid-1990's. The unit became CSX #7357 as a result of the Conrail split in 1999.
CR #6259 (a C40-8W) was involved in the same wreck which destroyed most of the cab. However, the unit was salvaged and repaired at NS' Roanoke, VA facility and was fitted with a C40-9W's cab (having high-mounted numberboards) sometime during the mid-1990's. The unit (ironically) became NS #8436 as a result of the Conrail split.
Few UP C40-8W/C41-8W units have since been retrofitted with ATS (Automatic Train Stop) capabilities and features for operating local service in the Chicagoland area, where block signals are very strict and are known to suddenly change in regards to dense traffic.
Several ex-UP C40-8's and BCOL C40-8M's have since been assigned to DPU service on CN, and have retrofitted radio and microprocessor equipment to perform said action. 
http://www.nyab.com/en/products/leader/leader_1.jsp
Trains Magazine Vol. 74, Issue 9: Pg. 14
http://www.american-rails.com/ge-c40-8.html
http://www.amazon.com/Locomotives-Modern-Diesel-Electric-Reference/dp/1554078962
http://translate.google.com/translate?hl=en&sl=pt&u=http://pt.wikipedia.org/wiki/GE_BB40-8M&prev=search
http://www.nsdash9.com/rosters/8500.html
http://crcyc.railfan.net/locos/ge/8c40w/c408wproto.html
Ad blocker interference detected!
Wikia is a free-to-use site that makes money from advertising. We have a modified experience for viewers using ad blockers

Wikia is not accessible if you've made further modifications. Remove the custom ad blocker rule(s) and the page will load as expected.