Bio
The
GE
(
General Electric
)
Dash 7 series
is a series or line of four-axle and six-axle diesel locomotives built from 1976 to 1984. Many have been built, while many are currently in service with numerous shortlines or are preserved at museums. Almost all have since been retired from active Class 1 railroads or major railways.

A small handful currently remain in service with CSX, while others have since been rebuilt into remote control slugs (for CSX) or CCRCL's for UP. BNSF recently retired the last of their pre-merger era Dash 7 units around 2010-2011.
History
During the mid-1970's, the United States had recently experienced a severe energy crisis: fuel was scarce and highly overpriced due to what occurred during 1973. As a response to the growing problem, GE began to develop a diesel locomotive line consisting of a better design to help reduce operational costs.
What made the Dash 7 line more efficient, is primarily due to the lower fuel consumption from the four-stroke 7FDL series engine (or prime-mover) versus a two-stroke 645 series engine from EMD.
Main Models
B16-7 (none built; merely a concept)
B23-7
B26-7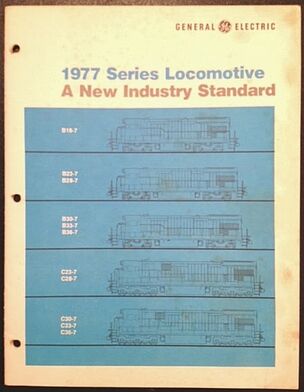 B30-7
B33-7 (cataloged, but not built; not to be confused for the "BB23-7" narrow-gauge rebuilds exported to Brazil, built from aged B23-7 and subsequent B30-7/B36-7 domestic four-axle units)
B36-7
C23-7 (none originally built, but serves as a designation for the ex-ATSF B23-7 rebuilds exported to Uganda from NRE, with the exception of de-rated 3,000hp and 3,600hp C30-7 and C36-7 units)
C26-7 (none officially produced, but serves as a designation for the MRS C30-7 rebuilds; some which are equipped with microprocessor controls, and dubbed as a "C26-7MP")
C30-7
C33-7 (cataloged, but not built domestically)
C36-7
Others
ATSF SF30B (rebuilt U23B built to Dash 7 specs by ATSF's Cleburne Shops).
C30-7A (12-cylinder variant of the C30-7 built for Conrail).
B30-7A (Cabless 'B unit' built for BN; not to be confused with Southern high-hood cab unit; sometimes labled as "B30-7AB or "B30-7B").
Sources
http://donsdepot.donrossgroup.net/dr420.htm
http://condrenrails.com/Diesel-Locomotives/GEs/road-switchers.html