The L&N (Louisville and Nashville) M-1 Class were 2-8-4 "Berkshire" steam locomotives built by the Baldwin Locomotive Works and Lima Locomotive Works.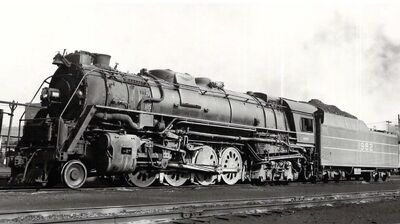 History and Statistics
Edit
The Louisville & Nashville's 2-8-4 Berkshires were built by two locomotive builders from 1942 to 1949. The first batch (#s 1950-1969) was built by the Baldwin Locomotive Works of Philedelphia, Pennsylvania, and the second batch (#s 1970-1991) was built by the Lima Locomotive Works of Lima, Ohio. These 2-8-4 locomotives were rostered by the railroad as Class M-1s, and eventually received the nickname 'Big Emma' by crews and employees of the L&N. The 'Big Emmas' could be found across the L&N's system before dieselization, mostly on the point of freight trains. Though on some occasions, they could be seen on passenger trains for spare use. 
The statistics for the L&N's M-1s are followed:
69" diameter drivers.
25" x 32" cylinders.
265 psi boiler pressure.
65,290 pounds of tractive effort.
Each weighed in at 447,200 pounds.
Disposition
Edit
None of the L&N 2-8-4 survive today, but only two tenders from 'Big Emmas' survive. These two tenders, from L&N Berkshires #1966 and #1985, were kept for use as water cars on MOW trains, although one of the converted tenders was used as an auxiliary water tender in the Southern Railroad's Steam Program. L&N #1966's tender is currently at the Southeastern Railway Museum, in Duluth, Georgia, while L&N 1985's tender is at the Kentucky Railway Museum in New Haven, Kentucky.